What is sexual anorexia?
Defined as a pathological loss of 'appetite', or desire, for sexual activity, sexual anorexia is not a recognised pathology by the American Psychiatric Association (APA), yet in recent years it has gained in popularity among various communities as a genuine medical condition.

Perhaps the most well-known study on the subject was carried out by the founder of the International Institute for Trauma and Addiction Professionals (IITAP), Dr Patrick Carnes, who discovered that a number of his patients diagnosed with sexual anorexia also had a history of sexual, physical or emotional abuse. Carnes was not the first to use the term, however he popularised the concept following the publication of his book, Sexual Anorexia: Overcoming Sexual Self-Hatred.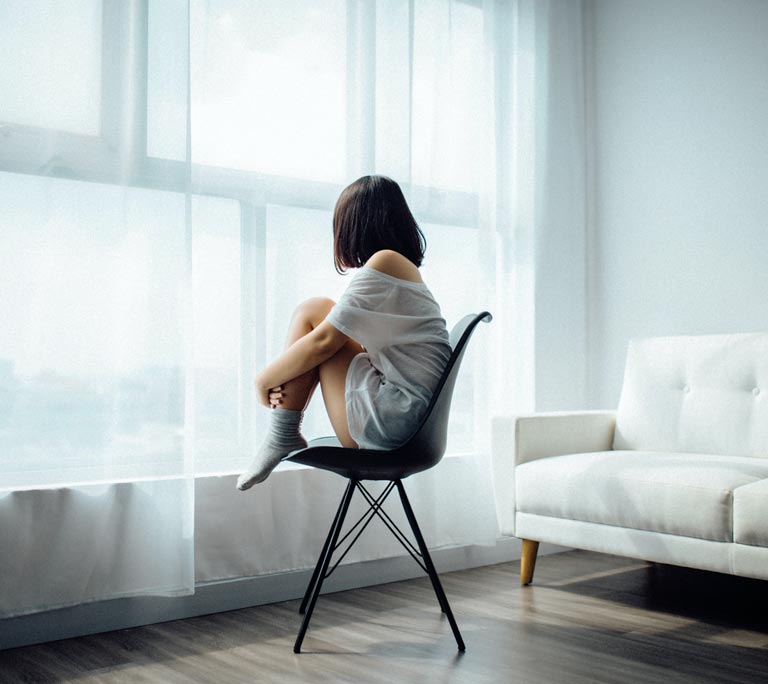 It is thought that people with sexual anorexia avoid, fear or dread sexual intimacy, and can sometimes involve physical problems, such as impotence in men.

While the condition may be seen as the opposite to sexual addiction, some experts have linked the two, suggesting that both addiction and aversion can stem from the same causes. Both conditions can also infringe on the ability to form meaningful and lasting relationships with partners.
What are the signs of sexual anorexia?
The chief sign of sexual anorexia is a lack of sexual desire or interest. There can also be feelings of fear, anger, frustration or anxiety when the topic of sex or sex-related matters come up, as well as an obsession over the avoidance of sex in daily life.

Other signs of sexual anorexia include:
Persistent fear of intimacy, sexual contact, or sexually transmitted diseases (STDs)

Preoccupation with sexually-related matters, including the sexual behaviours of others

Negative and judgemental attitudes about sex, body appearance and frequency of sexual activity

Feeling vulnerable when in a sexually stimulating environment
Shame and self-loathing over sexual experiences

Impairing of relationships with sexual partners, such as the breakdown of a marriage

Negative impact on daily life, work, hobbies and interpersonal relationships
What are the causes of sexual anorexia?
According to studies, there are a number of physical and emotional causes of sexual anorexia. These can include hormone imbalances, childbirth, breast-feeding, the use of certain medications such as antidepressants or contraception, and exhaustion.

While some of the physical causes can be chronic, many are short-term and circumstantial. This differs from the typical emotional causes of sexual anorexia, which have a deeper and longer-lasting psychological underlying that can be more difficult to solve.

These include a history of sexual abuse, a general negative attitude towards sex, strict religious upbringing with relation to sex, power struggles with or pressure from a partner, and communication problems.
What are the treatments for sexual anorexia?
The treatment for sexual anorexia is much like the recommended treatment for sexual addiction due to the fact that both often stem from the same causes.

One of the most widely-recognised treatments is one-on-one support from a professional therapist. As someone with experience, they will be able to identify any underlying causes and work towards an effective and lasting solution. This could include cognitive behavioural therapy (CBT), in which the affected person breaks down their problems into smaller parts and gains control over each one, step by step.

Another proven method of tackling sexual anorexia is through group sessions with Sex and Love Addicts Anonymous (SLAA) and Sex Addicts Anonymous (SAA). They offer members the chance to speak openly about their deepest fears and insecurities in a safe and understanding environment, as well as obtain recommendations for literature on related topics.

Both of these methods have been shown to help people suffering from sexual anorexia to overcome their conditions and go on to enjoy healthy sex lives with long-term partners.


Contact Us Today
Psychotherapy and counselling can help clients uncover the underlying mental health issues that co-exist with sexual anorexia. Treatment and recovery is possible, as is the ability to rebuild relationships and develop a new, positive attitude towards sex.
Contact Us to find out more